Steinberg Cubase Pro 12 v12.0.0 (x64) with Steinberg Silk Emulator v1.0.0 (x64)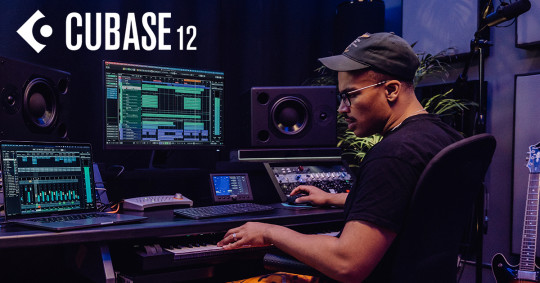 Steinberg Cubase Pro 12 v12.0.0 (x64) with Steinberg Silk Emulator v1.0.0 (x64) | 1.13 GB | Language: English
[spoiler]
Cubase is one of the world's most powerful music creation software packages. With its unrivaled array of flexible tools, you can create any kind of music quickly and intuitively. It comes with a wide range of virtual instruments, effects and thousands of sounds. Whether you're a professional composer or an aspiring music producer, Cubase has everything you need to turn your ideas into music.
TEAM R2R Steinberg Silk Emulator
Witches bring the true emulator of
new Steinberg Activation Manager
system (official code name : Silk).
It supports all current Silk powered
applications.
* Works with R2R Steinberg releases.
* R2R release does not affect the legit
Silk installation (application and
Avtivation Manager).
* Emulated by single DLL less than
10KB DLL. No background process
will run like original Silk.
* Applications take almost zero delay
to check license. More than 5 sec
faster on some computers.
Read included R2R.txt to check how
to install and how legit Silk works!
Check FAQ Below for more information!
You need R2R Root Certificate installation
due to the digital signature checks of
Steinberg applications!
Happy White Day! (JP Holiday, not racial!)
Steinberg Cubase 12 Release
Before Installing Cubase 12
Install Runtime(s):
Microsoft Visual C++ 2015-2022 Redistributable (x64)
=> Use google to download latest one from Microsoft.
Install TEAM R2R Root Certificate:
TEAM.R2R.Root.Certificate-R2R
=> Test certificate installation by R2RCERTTEST.exe.
Install TEAM R2R Steinberg Silk Emulator:
TEAM.R2R.Steinberg.Silk.Emulator.v*.*.*-R2R
=> Test emulator installation by included tool.
=> Always use latest one.
Restart computer after the change!
Clean Up VR Crack
If you have installed VR's Activation Manager Unlocker, you need to remove them by hand.
=> It does not work on every computers and DAWs.
=> It changes system configrations.
=> It copies override wintrust.dll (Windows system security module) to tampered one.
If you load external plugins using that DLL, the behavior will be unexpected.
Cubase 12 needs Windows10 21H2 or Windows 21H2. VR uses wintrust.dll from older Win10.
Delete files and folders:
C:\Program Files\Steinberg\Activation Manager\SteinbergActivationMonager.exe (this has Hidden and System attribute!)
C:\Program Files\Steinberg\HALion Sonic SE\HALion Sonic SE.exe.local\
C:\Program Files\Steinberg\Dorico4\Dorico4.exe.local\
C:\Program Files\Cubase 12\Cubase12.exe.local\
C:\Program Files\REAPER (x64)\reaper.exe.local\
C:\Program Files\Avid\Pro Tools\ProTools.exe.local\
Delete RegValue(s):
"HKEY_LOCAL_MACHINE\SOFTWARE\Microsoft\Windows NT\CurrentVersion\Image File Execution Options" "DevOverrideEnable"
"HKEY_CURRENT_USER\Software\Microsoft\Windows\Windows Error Reporting\ExcludedApplications" "SteinbergActivationMonager.exe"
Revert RegValue(s):
"HKEY_LOCAL_MACHINE\SYSTEM\CurrentControlSet\Services\WerSvc" "Start"
VR Changes this value to 4. Default value is 3.
Uninstall Steinberg Activation Manager.
If you need it, re-install it.
Restart computer because you actually changed the system settings.
Clean Up TC-Team Crack
Uninstall Steinberg Activation Manager (SAM).
If you still need SAM for the legit version compatibility, install it again.
There are no shady behavior like VR one
Install
Uninstall previous versions.
Mount ISO file. Run "Cubase12.msi" and install.
Install "Generic_Lower_Latency_ASIO_Driver_64bit.msi" if you need.
Install "VST_Transit_64bit.msi" if you need.
If you have "Steinberg Library Manager (SLM)" installation,
=> Run SLM.
=> Drag & Drop included "Content" folder to SLM GUI.
=> Install all. Done!
If you dont have SLM, do manual installation.
=> Copy "Content" folder to "%PROGRAMDATA%\Steinberg\".
You should also install :
Steinberg.Cubase.Pro.12.Content-R2R
Steinberg.Groove.Agent.SE.5.v5.1.0-R2R
Steinberg.HALion.Sonic.SE.3.v3.5.10-R2R
Steinberg.Padshop.2.v2.1.0-R2R
Steinberg.Retrologue.2.v2.3.0-R2R
Steinberg.SpectraLayers.Pro.8.v8.0.20-R2R
[/spoiler]
Homepage: https://www.steinberg.net/cubase/
DOWNLOAD LINKS:
https://k2s.cc/file/80a38e538c8d9
https://k2s.cc/file/aa96684a8dc00
https://rapidgator.net/file/a2d18c50f9698ee457e0a5805d6a60d0/Steinberg_Cubase_Pro_12_v12.0.0_x64_with_Steinberg_Silk_Emulator_v1.0.0_x64.part1.rar
https://rapidgator.net/file/b1c81f6f5b8e10e0e473101071bb27ea/Steinberg_Cubase_Pro_12_v12.0.0_x64_with_Steinberg_Silk_Emulator_v1.0.0_x64.part2.rar
https://nitro.download/view/9B1BDA04E38F1F0/Steinberg_Cubase_Pro_12_v12.0.0_x64_with_Steinberg_Silk_Emulator_v1.0.0_x64.part1.rar
https://nitro.download/view/8B6973988DAA60A/Steinberg_Cubase_Pro_12_v12.0.0_x64_with_Steinberg_Silk_Emulator_v1.0.0_x64.part2.rar
https://uploadgig.com/file/download/a4e5ce3a04Af6BD6/Steinberg_Cubase_Pro_12_v12.0.0_x64_with_Steinberg_Silk_Emulator_v1.0.0_x64.part1.rar
https://uploadgig.com/file/download/f4162152Bd743f83/Steinberg_Cubase_Pro_12_v12.0.0_x64_with_Steinberg_Silk_Emulator_v1.0.0_x64.part2.rar