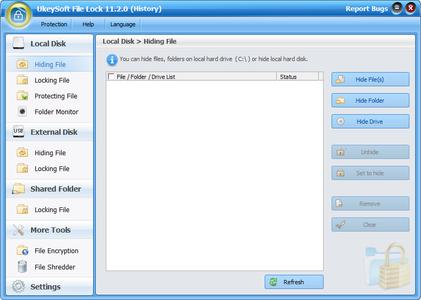 UkeySoft File Lock 12.0 Multilingual | 12.93 MB
UkeySoft File Lock is a military grade files encryption tool, which is designed to password-lock and hiding files, folders and drives; encrypt your important file to protect them. As a professional data security tool, it provides four amazing features to protect confidentiality and integrity of your private data with strong 256-bit algorithm.

Password protect any files, folders on local disk or USB flash drives, memory card or CDs.
Password protect a drives and a folder, so all new files added become password protected also.
Hide your private files/folders from local disk or external (USB) disk, no one else knows hidden files, except you.
Nobody can modify, delete, or rename the protect files/folders without password.

Locking Files/Folders/Drives with Password Safely
UkeySoft File Lock use the latest 128-bit symmetric key – used for AES (Advanced Encryption Standard) , this technology protects against violent attacks on computer, its security keys are never compromised, and it doesn't affect your computer's performance, security and speed.
Lock any type files and folders on local drive , USB drive or LAN network with password.
Password protect your private photos, videos, audios, Emails and other media files.
Password protect ZIP files, text files, PDF and office documents like Word, Excel, Powerpoint, etc.
Lock and password protect Apps/program in Windows 10/8/7/Vista/XP/ 2000.
Password protect and encrypt your data CD and DVD by CD DVD Encryption.

Hide Your Files/Folders/Drives, 100% Safe
UkeySoft File Lock also allows users hide files, folders and drives to make them completely invisible. Files and folders still on its previous location and can only be accessed through the software interface. Nobody knows the hidden files even under Windows Safe Mode.
Hide your private files/folders and Apps/programs from local disk or external (USB) disk.
Hide PDF files, Word, Excel, Powerpoint, TXT files and other documents.
Make your hidden files unsearchable. All hidden files are never shown in search results.

Make Files/Folders/Drives Undeletable
If your personal, private and confidential files need security protection, UkeySoft File Lock can help you can protect files/folders on local disk or external USB drives, so that intruders or unauthorized users cannot access, read, view, copy, move or delete them.
Only allow read the write-protected files.
Nobody can modify, delete (even shift delete), or rename the protected files/folder without password.

File Eraser & Disk Wiper
Simply deleting your files can be recovered by some professional data recovery software, so it is necessary to shred all exiting files and already deleted files from your hard disk permanently by File Shredder.
A fast, safe and reliable tool to shred your company files and private data.
Complete and permanently erase data, even any file recovery software cannot recover them again.
Wipe all files including previously deleted files to empty your drive space.

Updates: official site does not provide any info about changes in this version.