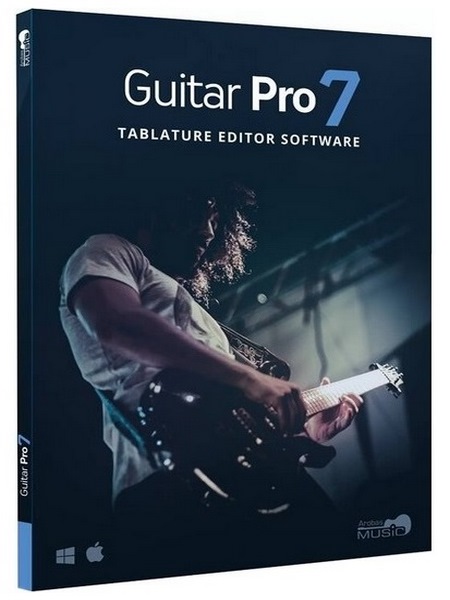 Guitar Pro v7.5.3 Build 1734 Patched | Size 24 MB
Information:
Release Date : 2019
Languages : English / Multilanguage
Operating System : Windows XP / Windows 7 / Windows 8 / Windows 8.1 / Windows 10
System Type : 32-bit / 64-bit

Wide-ranging new features and enhancements, for creating, playing, and sharing your tabs!

Editing sheet music has never been easier
Guitar Pro allows you to edit your music scores and tablature for guitar, bass, and ukulele, as well as create backing tracks for drums or piano. This is a most thorough yet user-friendly tool for musicians who wish to get better, compose, or simply play along.

–Read music scores and tabs
Guitar Pro is a powerful score player really helpful to learn how to play, improve your technique, reproduce your favorite songs or accompany yourself.
Guitar Pro allows you to compose and read music scores using the musical notation of your favorite instrument. Display the tablature notation to learn guitar riffs or use the standard notation to read music score for piano, drums, brass and strings. Rediscover also the Slash notation to sight-read easily rhythmic patterns from chord charts.

— Music score edition
Express your talent by creating your own scores in a matter of minutes. You can edit the notes directly on the standard score or on the tablature. All the usual musical symbols pertaining to the guitar and to other stringed instruments are available. The notes capture can be made quickly with the numerical pad, the mouse, or even a MIDI instrument.

Customize your score
Based on the classic or jazz styles, you can set 70 different parameters, configure the layout of your scores exactly as you wish, and get professional-level paper printouts.

Create multitrack scores
The multitrack edition allows you to create music scores with dozens of instruments: guitar, bass, drums, piano, voice, strings, brass and many more.

–Tools for composing music
Chords
Ask any chord and Guitar Pro will display all possible positions on the fretboard. Draw a diagram by clicking on the chord grid and see all matching names.

Scales
View and listen many scales from the most common to the most exotic ones. The selected scale can be displayed on the fretboard or piano to help you compose your song, write a solo or melody line.

–Print and share your files
Guitar Pro Import/Export
Import your .gtp, .gp3, .gp4, .gp5 and .gpx files. Export them with Guitar Pro 7.5 in .gp5, .gp and .gpx format.

.ptb PowerTab/TablEdit Import
Guitar Pro allows you to import files from others tablature editor softwares.

.midi MIDI Import/Export
Import and export your files in MIDI format for further processing in a sequencer.

http://nitroflare.com/view/1015F262525EA74/Meera169_Guitar.Pro.v7.5.3.Build.1734.rar

https://rapidgator.net/file/667b1c8494728143c305d9581b687ea7/Meera169_Guitar.Pro.v7.5.3.Build.1734.rar