Deep HIARCS Chess Explorer v1.11.1 Multilingual Win.OSX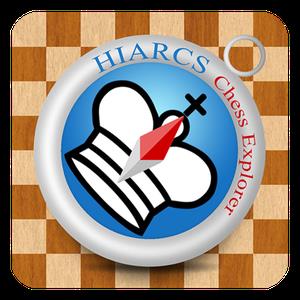 Deep HIARCS Chess Explorer v1.11.1 Multilingual Win.OSX | 135/109 MB | Language: Multilanguage
[spoiler]
HIARCS Chess Explorer is a superb new chess database, analysis and playing program for either PC Windows or Apple Macintosh computers. It offers a truly innovative and intuitive new graphical user interface together with the reigning World Chess Software Champion HIARCS 14 chess engine. This unique combination is refreshingly easy to use and includes many unique new features for managing chess databases, chess preparation, analysis and training for players of all abilities from beginner to Grandmaster.
What is the difference between the Deep HIARCS Chess Explorer and HIARCS Chess Explorer? Deep HIARCS offers the multi-core/multi-processor version of HIARCS 14 whereas HIARCS has the single core version.
Languages: English, Deutsch, Español, Français, Italiano, Polski, Português, Русский.
KEY FEATURES OF HIARCS CHESS EXPLORER
Advanced Chess Graphical User Interface
HIARCS Chess Explorer GUI can use any UCI compatible chess engine
Quality piece set graphics, board textures, artist designed icons
Integrated features allow easy navigation of databases, games and players
Comprehensive user manual and context sensitive help is included
Available for PC Windows or Apple Macintosh with native look and feel
Multi-lingual support for English, French, German, Italian, Polish, Russian and Spanish
HIARCS 14 World Chess Software Champion
HIARCS 14 chess engine is closely integrated with the Chess Explorer GUI, our chess engines can also be used in any UCI compatible GUI
Provides incredibly strong analysis, advice and play
Famous for its human-like and entertaining attacking playing style
The chess engine generally used by World Chess Champion Vishy Anand
Game Explorer
Comprehensive PGN database support including simultaneous handling of multiple databases, searching, filtering and sorting by game header, openings and positions, ECO opening name classification, game lists and much more
Extensive game notation support with variations, embedded text comments, annotations, diagrams, chess symbols and chess opening naming – all of which can be viewed, added and edited. Intuitive game entry with automatic suggestions based on move quality. Game print facilities with diagrams
Player Explorer
View players, their games, performances and favorite openings
Navigate to games and openings of players directly from the player dossier
Integrated and automated repertoire summaries for databases and players
Openings Explorer
World's first multi-source real-time chess tree with live updates
Gives new insight into chess openings from different perspectives
Integrated access to regularly updated online chess opening books
HIARCS Book subscribers get integrated access to additional online content
All books and databases provide detailed opening statistics
Analysis Explorer
Analyse positions and games with multiple engines
Multiple lines of analysis with history/statistics, add analysis to game notation
Post game analysis with any chess engine provides variation commentary
Check your own games for blunders and improvements
Integrated online access to massive Terabyte endgame databases to give precise answers about endgame outcomes (about 250 DVDs worth of data!)
Custom Game Play mode
For playing games against the computer using any UCI chess engine available
Integrated HIARCS chess engine has realistic human-like handicap levels with set Elo strength settings suitable for players from beginner to Grandmaster
Choose rated or unrated games with time controls or casual play
Choose start positions and even opening selection for opening practice
The game play mode has an integrated coach to point out mistakes, distinguish move quality, point out good moves and give hints
Assess your chess ability and maintain a chess rating for you and your family
Adaptive level matches opponents to your ability as you progress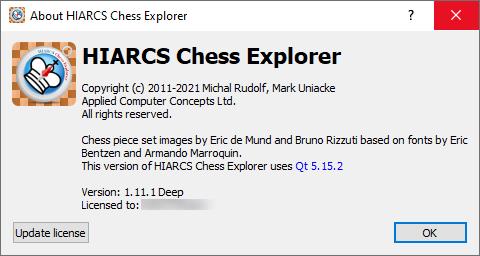 [/spoiler]
Homepage:
DOWNLOAD LINKS:
https://k2s.cc/file/ad3cb88e578f2
https://k2s.cc/file/93ac19eb7642f
https://rapidgator.net/file/11504dd8bcd141500f7548a80d7e630b/b9m8z.HIARCS.Chess.Explorer.v1.11.1.Win.rar
https://rapidgator.net/file/df88b3d4e6d84f5932dcf6c4ee9b978a/b9m8z.HIARCS.Chess.Explorer.v1.11.1.macOS.rar
https://nitro.download/view/1E6D6D72E2855FE/b9m8z.HIARCS.Chess.Explorer.v1.11.1.Win.rar
https://nitro.download/view/3E24C179C3A19E5/b9m8z.HIARCS.Chess.Explorer.v1.11.1.macOS.rar
https://uploadgig.com/file/download/632cF46cbe36dEf8/b9m8z.HIARCS.Chess.Explorer.v1.11.1.Win.rar
https://uploadgig.com/file/download/2829846ec7F8eE6c/b9m8z.HIARCS.Chess.Explorer.v1.11.1.macOS.rar