Civil 3D (.1.1) (x64) Addon for Autodesk AutoCAD 2022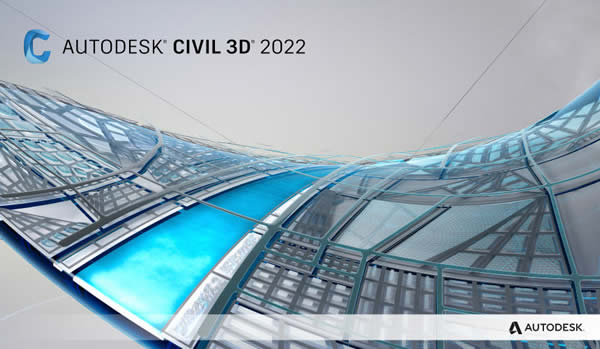 Civil 3D (.1.1) (x64) Addon for Autodesk AutoCAD 2022 | 4.5 GB | Language: English
[spoiler]
Civil 3D is an infrastructure design and documentation solution based on information modeling (BIM) technology. Civil 3D is intended for engineers working on transportation, land management and water protection projects. Users are able to coordinate projects, explore design alternatives, simulate facility operations, and produce high-quality documentation.
Civil 3D allows you to create more complex and information-rich projects by improving platform performance and expanding user functionality. New product features include work with pressure pipelines, improved surveying, master maps, and railroad track design. Improvements have been made to many transport design functions such as corridor shaping, 3D navigation, query execution, and surface boundary definition.
Many users of "vertical" AutoCAD products have noticed that recently any AutoCAD product with advanced functionality consists, in fact, of AutoCAD as a basis and add-on for Mechanical, Electrical, Architecture, etc. Alas, the developers, as before, post only full-format distributions. That is, if you want to get your hands on Mechanical and Architecture, you have to download two huge packages, most of the content of which duplicates each other. In this regard, I decided to start releasing distributions of a new type, containing only an add-on. Now, to install all the same Mechanical and Architecture, you will need to download basic AutoCAD and two small add-ons. Less download, more compact storage – this is the main idea of ​​assemblies of this format!
Where is Civil 3D, you ask? After all, the word "AutoCAD" is missing from its name ?! It is absent, but it is he who serves as the base anyway – AutoCAD! That is why all the same distribution optimization methods are applicable to this product as to the "vertical" AutoCAD products!
System requirements:
• Preinstalled Autodesk AutoCAD 2022 with the interface language identical to the language of the Civil 3D Addon being installed
• 64-bit version of Microsoft Windows 10 (version 1607 or later) ; 64-bit version of Microsoft Windows 7 SP1, Windows 8.x or Windows 10
• Processor with a clock speed of 2.5-2.9 GHz (3 GHz or higher recommended)
• 8GB of RAM (16 GB recommended)
• Video adapter with 1 GB of video memory , bandwidth 29 GB / s and support for DirectX 11 (recommended 4 GB and 106 GB / s and support for DirectX 12)
• Screen resolution 1920×1080 with True Color. Windows 10 supports resolutions up to 3840×2160
• 16 GB of free disk space
• .NET Framework 4.8 or higher
Additionally for 3D modeling and large amounts of data
• At least 16 GB of RAM
• 6 GB of free disk space (excluding the space required for installation)
• A workstation class video adapter with at least 4 GB memory that supports a screen resolution of at least 3840×2160 ( 4K), with support for True Color, Pixel Shader 3.0 or later, and Direct3D
[/spoiler]
Homepage: https://www.autodesk.com/
DOWNLOAD LINKS:
https://k2s.cc/file/b0ca819b0acab
https://k2s.cc/file/ffde2467a4306
https://k2s.cc/file/48779693fada3
https://k2s.cc/file/bb094e7730961
https://k2s.cc/file/76f40de7ff127
https://rapidgator.net/file/20190a5d22a7446d4707deedfdf1dd0e/Civil_3D_.1.1_x64_Addon_for_Autodesk_AutoCAD_2022.part1.rar
https://rapidgator.net/file/58611db2aae000db7a674526a1238a86/Civil_3D_.1.1_x64_Addon_for_Autodesk_AutoCAD_2022.part2.rar
https://rapidgator.net/file/5fadcaa3f657bea6eafbfd1f43bba520/Civil_3D_.1.1_x64_Addon_for_Autodesk_AutoCAD_2022.part3.rar
https://rapidgator.net/file/702d17c2b53e6de6e8ea86944987ed47/Civil_3D_.1.1_x64_Addon_for_Autodesk_AutoCAD_2022.part4.rar
https://rapidgator.net/file/652e7616afb21107361662db64bc47f1/Civil_3D_.1.1_x64_Addon_for_Autodesk_AutoCAD_2022.part5.rar
https://nitro.download/view/01BB97E89538D78/Civil_3D_.1.1_x64_Addon_for_Autodesk_AutoCAD_2022.part1.rar
https://nitro.download/view/DDBEA196535CDA4/Civil_3D_.1.1_x64_Addon_for_Autodesk_AutoCAD_2022.part2.rar
https://nitro.download/view/463493C4023976A/Civil_3D_.1.1_x64_Addon_for_Autodesk_AutoCAD_2022.part3.rar
https://nitro.download/view/594DACCCECF62C2/Civil_3D_.1.1_x64_Addon_for_Autodesk_AutoCAD_2022.part4.rar
https://nitro.download/view/61834F5EB6AE699/Civil_3D_.1.1_x64_Addon_for_Autodesk_AutoCAD_2022.part5.rar
https://uploadgig.com/file/download/7ec9Dd4eA36fF1af/Civil_3D_.1.1_x64_Addon_for_Autodesk_AutoCAD_2022.part1.rar
https://uploadgig.com/file/download/Ae8e2fe58E34bf5B/Civil_3D_.1.1_x64_Addon_for_Autodesk_AutoCAD_2022.part2.rar
https://uploadgig.com/file/download/1C4Dc5377863dbBd/Civil_3D_.1.1_x64_Addon_for_Autodesk_AutoCAD_2022.part3.rar
https://uploadgig.com/file/download/2787bDe48051b0f5/Civil_3D_.1.1_x64_Addon_for_Autodesk_AutoCAD_2022.part4.rar
https://uploadgig.com/file/download/5c3965B0B9ABc3Ae/Civil_3D_.1.1_x64_Addon_for_Autodesk_AutoCAD_2022.part5.rar