BETA-CAE Systems v22.1.0 (x64)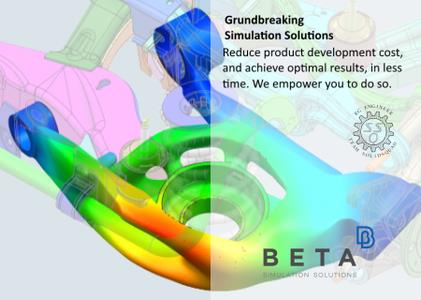 BETA-CAE Systems v22.1.0 (x64) | 1.99 GB | Language: English
[spoiler]
BETA CAE Systems is thrilled to announce the release of the major version 22.1.0 of its product line. The second bug-fix release of v22.x.x series comes as a follow up to your interest and feedback on the recently introduced major version, and hosts numerous fixes in recently detected issues.
The engineers at BETA CAE Systemssee simulation as a tool that can be used to predict the future. The Swiss company seeks to offer tools for every stage of the product development process, and its vision is to stop trade-off thinking. Instead of working under the constraints of quality, time and cost, the company hopes that customers using its tools early enough in the process will be able to win in all three areas.
Working through a full development cycle can require different tools for different phases.ANSAis the preprocessor tool that accepts CATIA V4, CATIA V5, NX, Pro/ENGINEER and Jupiter Tessellation (JT) files. TheEPILYSISsolver performs structured analysis in both linear and nonlinear paths. TheMETApost-processor offers several options for framing and presenting a study, with a focus on graphics and visualization.
The new version 22.0.0 of the BETA CAE systems software suite comes with numerous new tools and features, designed to facilitate and expand your simulation processes.
ANSA v22.0.0 highlights
BETA CAE Systemsis a private engineering software company committed to the development of state of the art CAE software systems that meet the requirements of all simulation disciplines. The company's products, the ANSA pre-processor/ EPILYSIS solver and META post-processor suite, and SPDRM, the simulation-process-data-and-resources manager, hold a worldwide leading position across a range of industries, including the automotive, railway vehicles, aerospace, motorsports, chemical processes engineering, energy, electronics, heavy machinery, power tools, and biomechanics.
Graphic Requirements
Upon v22.0.0, the minimum graphic requirements for ANSA and META are: AMD or NVIDIA GPU with at least 1GB of video memory and OpenGL 3.3 support.
In case of unsupported hardware in Windows or Linux, ANSA and META will automatically fall back to software rendering using Mesa LLVM rasterizer pipeline. Additionally, Mesa can be manually activated.
Compatibility and Supported Platforms
ANSA files saved by all the first and second point releases of a major version are compatible to each other. New major versions can read files saved by previous ones but not vice versa.
META Project files saved from version 22.0.0 are compatible and can be opened by META version 16.0.0 or later. To be readable by META versions earlier than v16.0.0, they have to be saved selecting the option "Version 16.0.0" or "Version <16.0.0". Support for 32-bit platform has been discontinued for all operating systems. BETA-CAE Systems 22.1.0 | 2.0 Gb Product:BETA CAE Systems Version:22.1.0 Supported Architectures:x64 Website Home Page : http://www.beta-cae.com Languages Supported:english System Requirements:PC * Size:1.99 Gb [/spoiler] Homepage: https://www.beta-cae.com
DOWNLOAD LINKS:
https://k2s.cc/file/e2dd8184c4d4f
https://k2s.cc/file/67c468859b89d
https://k2s.cc/file/ba23b8df27942
https://rapidgator.net/file/245afd9900399670426b4cc90c89ec72/BETA-CAE_Systems_v22.1.0_x64.part1.rar
https://rapidgator.net/file/ba3fab3928b6f41bb6a5f82460732e22/BETA-CAE_Systems_v22.1.0_x64.part2.rar
https://rapidgator.net/file/8db8fb38d32db77c62f843ef61452142/BETA-CAE_Systems_v22.1.0_x64.part3.rar
https://nitro.download/view/7D1267D18E88787/BETA-CAE_Systems_v22.1.0_x64.part1.rar
https://nitro.download/view/2EAAA3A35EEF081/BETA-CAE_Systems_v22.1.0_x64.part2.rar
https://nitro.download/view/6044A9FBDFE4698/BETA-CAE_Systems_v22.1.0_x64.part3.rar
https://uploadgig.com/file/download/565756726e53E19f/BETA-CAE_Systems_v22.1.0_x64.part1.rar
https://uploadgig.com/file/download/19bD3Ddc8e717e11/BETA-CAE_Systems_v22.1.0_x64.part2.rar
https://uploadgig.com/file/download/30098517c3f8983f/BETA-CAE_Systems_v22.1.0_x64.part3.rar