Altair Inspire Form 2021.2.1 (x64)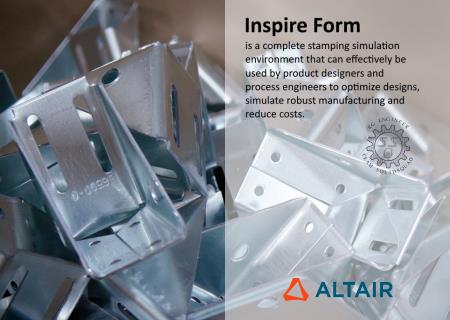 Altair Inspire Form 2021.2.1 (x64) | 2.6 GB | Language: English
[spoiler]
The Altair Engineering development team is pleased to announce the availability of Inspire Form 2021.2.1. This release includes the new features and also fixes to various user-reported issues from the previous release, providing an overall more stable experience.
New Features and Enhancements 2021.2.1
Inspire Form 2021.2.1 includes the following new features, enhancements, or resolved issues.
New Features
– Added a new Preference to set the mesh coarsening level for gravity runs.
Resolved Issues
– Fixed a crash when opening files saved in 2021.2 or earlier versions.
– Fixed a crash when starting a run from files saved in version 2021.2.
– Fixed a crash when generating reports in Feasibility.
– Fixed an issue where blank nesting failed for the locked rotation option.
– Fixed an issue where the run failed for models with line beads.
– Fixed an issue where mesh tools failed to continue from the second operation for models containing multiple operations.
– Fixed an issue restarting the run for models where the first operation was Gravity.
– Fixed an error in the blank position in second stage for models with a flat binder.
– Reduced the memory footprint for gravity runs.
– Fixed an issue with the formality plot missing failure points in Feasibility.
– Fixed an issue where loose material data was missing in formability plots.
– Fixed issues with adaptive mesh and gravity mesh coarsening.
– Fixed an issue with auto tool positioning for small planar tools.
Altair Inspire Form 2021.2.1
Altair Inspire Form is a complete stamping simulation environment that can effectively be used by product designers and process engineers to optimize designs, simulate robust manufacturing and reduce material costs. With the fast and easy feasibility module, users can analyze parts in seconds to predict formability early in the product development cycle. The automated blank nesting proposes an efficient layout of the flattened blank on the sheet coil to maximize material utilization. The tryout module includes a highly scalable incremental solver, helping users to iterate and simulate multi-stage forming, trimming and springback in a modern and intuitive user interface, reducing complexity and making the production of high quality parts more economical.
Altair Inspire Form also offers an innovative user experience to seamlessly transition between design and analysis through a highly intuitive user interface designed for beginners and experts alike. It enables part and process designers to evaluate manufacturability early in the development cycle to avoid costly trials downstream. Altair Inspire Form automatically generates a report for fitted and nested blanks to help maximize material utilization
This quick video tutorial shows how to perform a manual setup in the tryout (incremental analysis) workflow.
https://youtube.com/watch?v=zf-yK6UFHhI
Altair is a global technology company that provides software and cloud solutions in the areas of product development, high performance computing (HPC) and data analytics. Altair enables organizations across broad industry segments to compete more effectively in a connected world while creating a more sustainable future.
Product: Altair Inspire Form
Version: 2021.2.1 Build 3583
Supported Architectures: x64
Website Home Page : [www.altair.com
Languages Supported: english
System Requirements: PC *
Size: 2.6 Gb
[/spoiler]
Homepage:
DOWNLOAD LINKS:
https://k2s.cc/file/94ee856d97a51
https://k2s.cc/file/b96ddf3f28143
https://k2s.cc/file/20f7a82c22049
https://rapidgator.net/file/5c1eaffe67bd0ee392c8f4cdc435aac2/Altair_Inspire_Form_2021.2.1_x64.part1.rar
https://rapidgator.net/file/81d0a7f3c79ff3adefebcc1e15c2f405/Altair_Inspire_Form_2021.2.1_x64.part2.rar
https://rapidgator.net/file/570a86f1ab260da459aeac090685d8f9/Altair_Inspire_Form_2021.2.1_x64.part3.rar
https://nitro.download/view/2CA160D4EEE49D5/Altair_Inspire_Form_2021.2.1_x64.part1.rar
https://nitro.download/view/394CDA8DC488827/Altair_Inspire_Form_2021.2.1_x64.part2.rar
https://nitro.download/view/75A82CA4C0C4191/Altair_Inspire_Form_2021.2.1_x64.part3.rar
https://uploadgig.com/file/download/8a441ef29fe09B6e/Altair_Inspire_Form_2021.2.1_x64.part1.rar
https://uploadgig.com/file/download/6018e4C98541875e/Altair_Inspire_Form_2021.2.1_x64.part2.rar
https://uploadgig.com/file/download/c466be2f452130f8/Altair_Inspire_Form_2021.2.1_x64.part3.rar