DS SIMULIA Suite (Abaqus/Fe-safe/Tosca) 2021 HF9 Update (x64)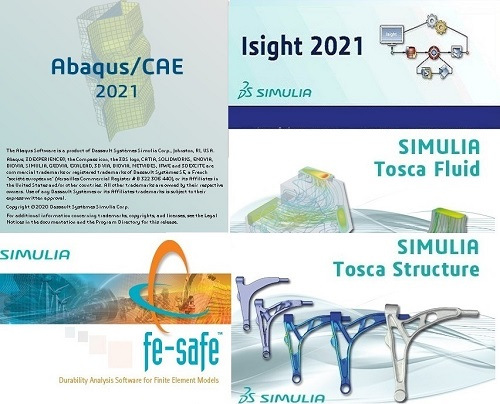 DS SIMULIA Suite (Abaqus/Fe-safe/Tosca) 2021 HF9 Update (x64) | 2.89 GB | Language: English
[spoiler]
A world-class software package in the field of finite element strength calculations, with the help of which it is possible to obtain accurate and reliable solutions for the most complex linear and nonlinear engineering problems.
DS SIMULIA Tosca (Fluid/Structure)
TOSCA Fluid is so far the only available system for topology optimization of channel flow problems. Starting from an initial design space, an optimized design of a flow channel is determined automatically by TOSCA Fluid. With only one CFD solver run an optimized structure with e.g. significantly reduced pressure drop or homogeneous flow is derived. This allows for the first time an economic topology optimization of industrial large scale flow applicatons.
Tosca Structure is the market leading technology for structural optimization based on industry standard FEA packages (ABAQUS, ANSYS, MSC NASTRAN). It allows for rapid and reliable design of lightweight, rigid and durable components and systems. Using topology optimization with Tosca Structure.topology you obtain optimal design proposals already during design concept. Specific detail improvements through shape and bead optimization respectively (with Tosca Structure.shape and Tosca Structure.bead respectively) make your designs ready for production. With Tosca Structure.sizing you find optimized sheet thicknesses even for large scale applications with up to millions of design variables. The result are designs with optimum relation between weight, stiffness and dynamic behavior.
DS SIMULIA FE-safe
FE-safe is the technical leader in fatigue analysis software for Finite Element models. FE-safe has been developed continuously since the early 1990's in collaboration with industry to ensure that it continues to set the benchmark for fatigue analysis software.
FE-safe was the first commercially available fatigue analysis software to focus on modern multiaxial strain based fatigue methods. FE-safe provides unique capabilities for thermo-mechanical fatigue and creep-fatigue, the fatigue analysis of composite and rubber materials and the Verity Structural Stress method for welded joints.
FE-safe is renowned for its accuracy, speed, comprehensive capabilities and ease of use.
Regardless of the complexity of your fatigue analysis,
FE-safe fits smoothly into your design process, enabling you to develop products that are designed for durability.
FE-safe offers the user an easy-to-use fatigue analysis suite that provides reliable, accurate fatigue life predictions regardless of the complexity of your analysis
Year / Release Date : 2021
Version : 2021 HF9
Developer : Dassault Systemes
Developer Site :
http://www.3ds.com/products-services/simulia/
Bit depth : 64bit
Interface language : English
System requirements : Windows 7 / 8.1 / 10 64-bit
Description : DS SIMULIA Abacus CAE
[/spoiler]
Homepage: https://www.3ds.com/products-services/simulia/
DOWNLOAD LINKS:
https://k2s.cc/file/eb6b72146bfa1
https://k2s.cc/file/688fe1e585f78
https://k2s.cc/file/1d47ba71796ab
https://rapidgator.net/file/a06d2ebb08f0761cb8eddecd04b24194/DS.SIMULIA.Suite.2021.HF9.Update.Only.Win64-SSQ.part1.rar
https://rapidgator.net/file/b5d406631cc1504d6a39345db9bc76f4/DS.SIMULIA.Suite.2021.HF9.Update.Only.Win64-SSQ.part2.rar
https://rapidgator.net/file/16a46d71d74f8dabcfca897f80cc07fe/DS.SIMULIA.Suite.2021.HF9.Update.Only.Win64-SSQ.part3.rar
https://nitro.download/view/D25A8252C93E334/DS.SIMULIA.Suite.2021.HF9.Update.Only.Win64-SSQ.part1.rar
https://nitro.download/view/E1626AB199A2973/DS.SIMULIA.Suite.2021.HF9.Update.Only.Win64-SSQ.part2.rar
https://nitro.download/view/4779F43BD4869BC/DS.SIMULIA.Suite.2021.HF9.Update.Only.Win64-SSQ.part3.rar
https://uploadgig.com/file/download/a6dCf5ebed53a0da/DS.SIMULIA.Suite.2021.HF9.Update.Only.Win64-SSQ.part1.rar
https://uploadgig.com/file/download/B0580028Ef203409/DS.SIMULIA.Suite.2021.HF9.Update.Only.Win64-SSQ.part2.rar
https://uploadgig.com/file/download/74d16c9864648341/DS.SIMULIA.Suite.2021.HF9.Update.Only.Win64-SSQ.part3.rar